CLICK TO DISCOVER ASTES4 SOLUTIONS
WATCH THE FULL VIDEO AND DISCOVER ASTES4 TECHNOLOGY
Astes4 has always been at the forefront of technology innovation providing advanced and innovative solutions to meet the most demanding challenges for automation in the laser Cutting Process.
Astes4 solutions represent a technological quantum leap in terms of process optimization. With its fully automated and unique parts picking and sorting technology, Astes4 significantly simplifies the process, preparing cut parts, thereby allowing smooth production flow with minimal logistics and human interference.
Check the video clips to see some highlights.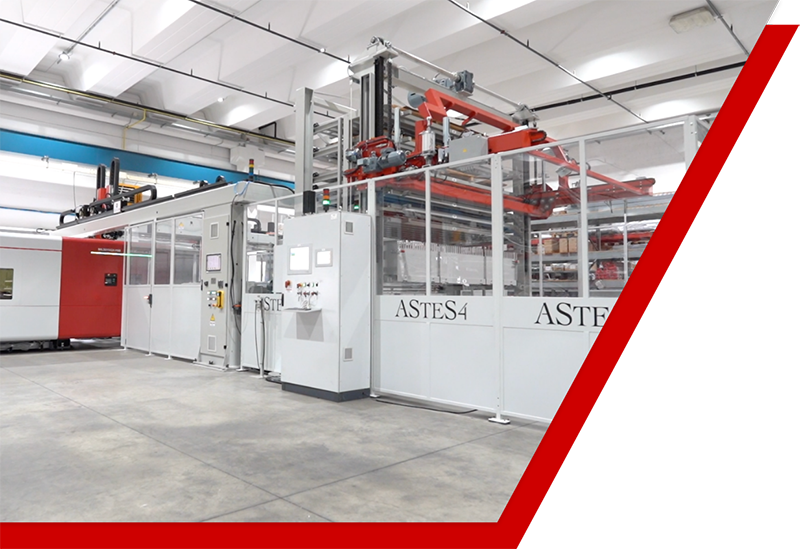 Astes4 Core Product
With its worldwide patent, it delivers cutting edge solutions by providing a complete unmanned metal cutting and parts handling process, fully integrated in the Customer upstream & downstream production phases.
The ASTES4 automatic FMS cell manages the entire production flow from raw material loading to picking and sorting cut parts in an intelligent manner to support the following manufacturing phases.
Other particular functions such as brushing of laser cutting slats or complete flatbed replacement can be carried out automatically. Process control is guaranteed by its versatile design able to adapt to any production volume, ensuring safety, operation traceability and continuity, even during light off operations. .
LASER + SORTING + AUTOMATIC STORAGE SYSTEM
The Efficient Production Cell
An integrated production cell consists of the Mitsubishi Electric laser machine and ASTES4 Sorting system with multiple choice of parts and material storing from multilevel parts conveyor to customizable automated storage systems. Maximum plant efficiency, thanks to the overall reduction in lead time for your deliveries. Reduction of labour costs, due to less o no human parts handling and with minimized forklift traffic on the manufacturing site. Decrease to zero sorting and palletizing errors. Reduction of material waste, through intelligent management of orders. Great versatility, which allows easy management of complex processes starting from metal sheets with different weights and thicknesses. Exceptional flexibility, precision and punctuality for any production volume.
ASTES4, established in 2013 is specialized in Intelligent Automated Part Sorting Solutions, having in-house hardware, software design and production. The company, thanks to its organization, is able to offer Customers worldwide, the most advanced integrated solutions for the full automation Manufacturing Processes. ASTES4 has the most advanced product range on the market, able to provide a truly complete unmanned FMS production Cell for sheet metal cutting and processing, fully integrated in the Customer's upstream & downstream production phases.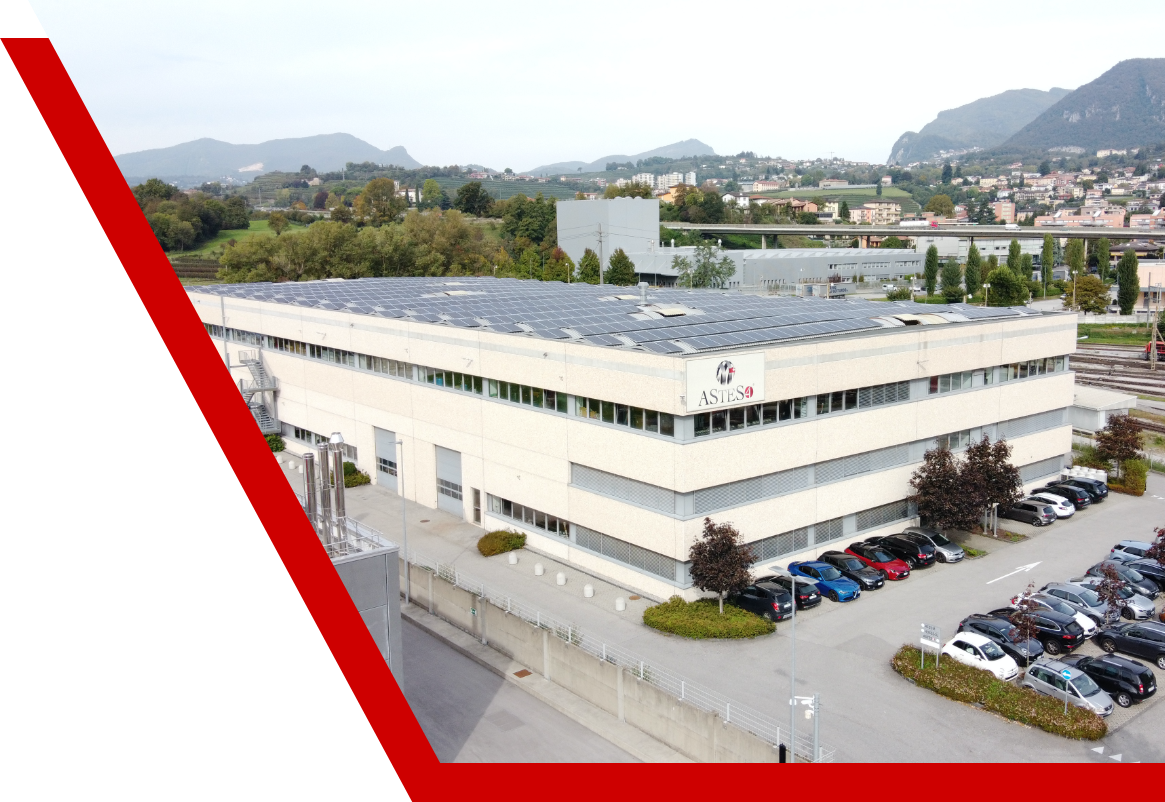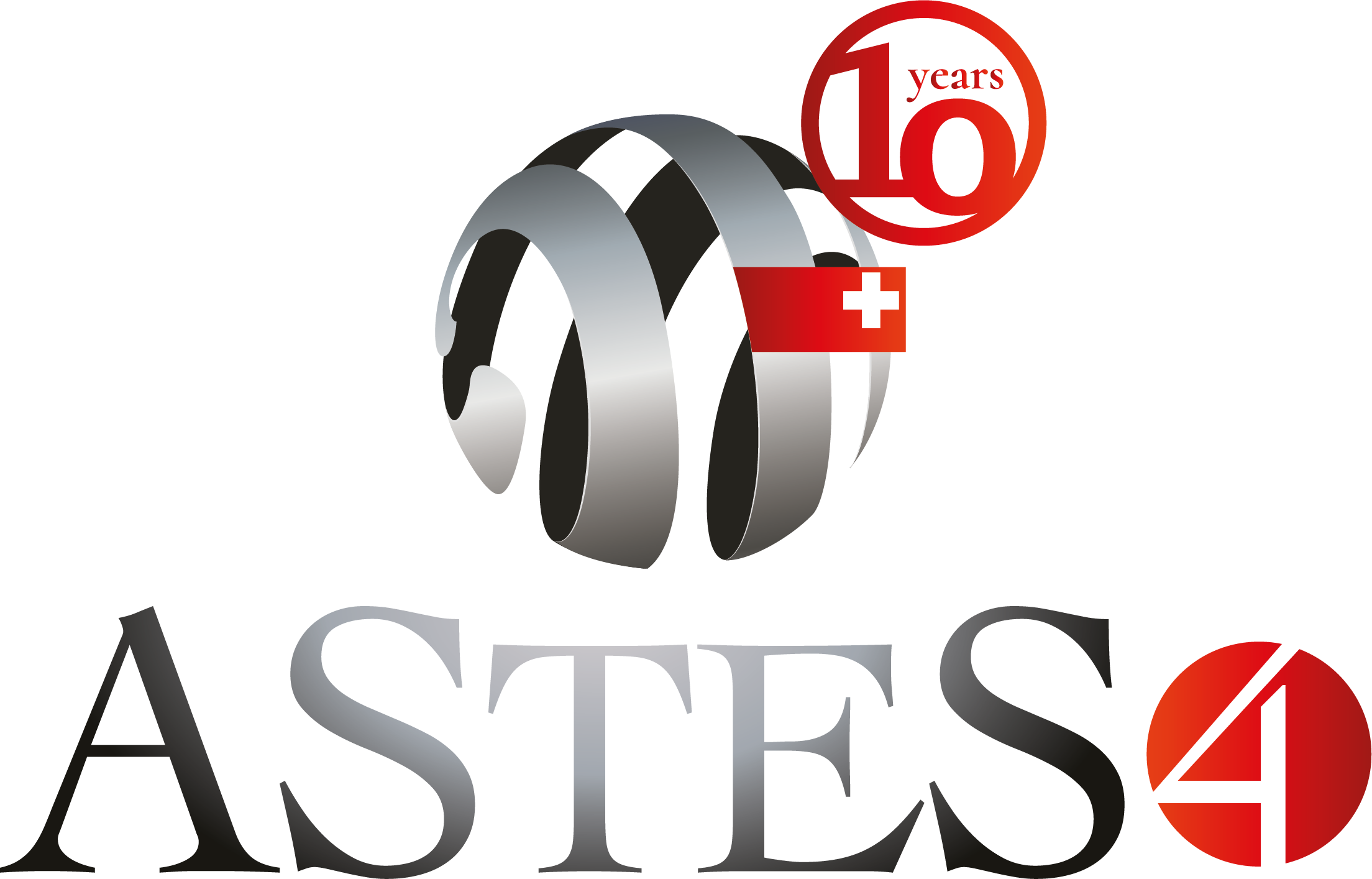 Happy birthday Astes4! For 10 years, your go-to for automation.

Astes4 is associated with "Swiss Made Software".
The swiss made software label is dedicated to promoting the Swiss software industry, both at home and abroad. It combines Swiss values such as quality, reliability and precision – especially in software development. See more